Drone operators look up into the sky for a living. The right lenses are crucial both for their job performance but also long-term health of their eyes as they spend so much time starring up towards the sun. We interviewed professional photographers Kunihiko Ishii and Takeo Nakajima to learn more about their craft and the role TALEX lenses play.
First of all, please tell us your occupation.
Nakajima
I'm a mountain cameraman and alpine climber.
Ishii
I'm a mountain climber, and a photographer.
You have experience shooting in harsh places such as Everest, are you ever afraid?
Nakajima
I'm of course, there are many dangerous situations. There are natural disasters such as avalanches and lightning strikes, and falling or sliding into snow crevasses. I am constantly trying to predict dangers and avoid or mitigate them.
Ishii
There is fear. I often climb mountains for photographing, so I design my own safety standards so that I can safely descend my body and equipment. When I work with Kenro, that standard is often raised, which makes me even more nervous (laughs).
How long have you been shooting drones?
Nakajima
It's been about 5 years since I started shooting professionally. Mr. Ishii?
Ishii
I first used a drone about 8 years ago. I've been using one a lot for work in the last few years.
Nakajima
The evolution of the drone itself has been tremendous, and it has become much easier to handle than it was a few years ago. The GPS accuracy is solid and stable, even in the mountains, and it has become quite compact. It's easier to fly, so you can capture the video you want to shoot with a very high probability.
Ishii
The evolution of functions has been amazing, and it has become possible to fly faster and more stably over long distances. With a small aircraft it's easy to use in the mountains, the performance of the attached camera has improved considerably, and it has become possible to photograph in various situations such as blue ice on the snow surface and low light times in the morning and evening.
What do you find difficult in drone photography?
Nakajima
Even though it has evolved, it's just a drone that is flying, so it's still difficult to maneuver. Unlike the camera, you are always at risk of a crash. There are various natural phenomena surrounding mountains, so I feel nervous every time. The wind in the sky, the snow, the rain … I'm pretty overwhelmed by the drone (laughs).
Ishii
The wind is invisible, but it's the most dangerous. It is impossible to predict if the wind will blow in the same direction. If the direction suddenly changes or the strength of the wind changes it's very hard to maneuver.
You certainly can't see the wind in the sky.
Nakajima
In order to fly the drone to the place you want, it is very important to read the flow of clouds and imagine the wind. There is a downburst that occurs and if you enter it, it will crash at once. To avoid that you have to predict the airflow by looking at the clouds. Because of polarization, when you look at the clouds with a TALEX lens you can see their state more clearly than the naked eye, without any darkening.
Ishii
I feel the same. The contrast increases, making it easier to see things that cannot be seen with the naked eye, such as the movement and speed of clouds.
Are there any points where sunglasses are effective other than the cloud condition?
Nakajima
On a sunny day the drone is often at the same height as the sun in my field of view. It is much easier to see the drone when looking through the TALEX lens. If it's hard to see I will squint unconsciously. Then, the amount of information I see will decrease because my field of view will be narrowed.
However, by wearing these sunglasses, you don't have to squint, so you can catch obstacles and avoid troubles.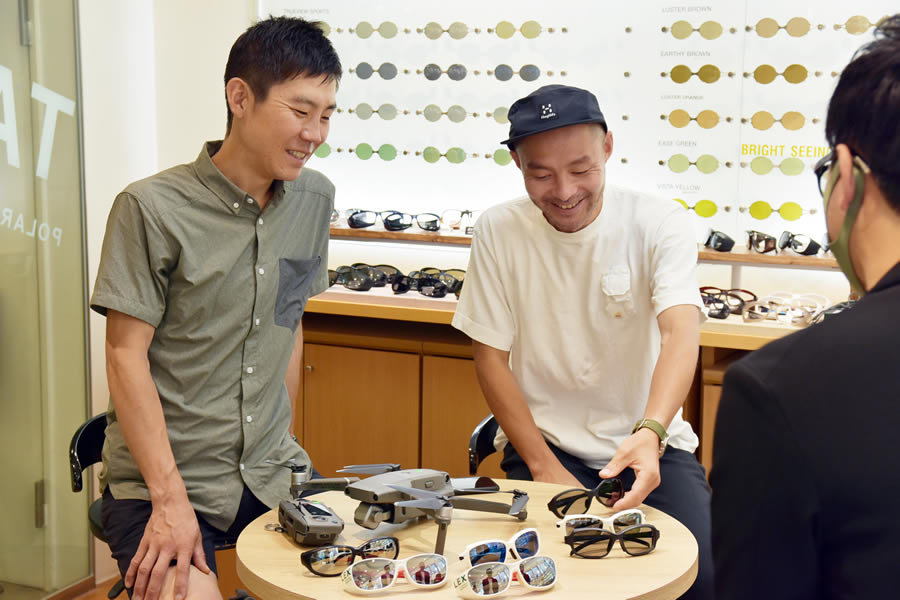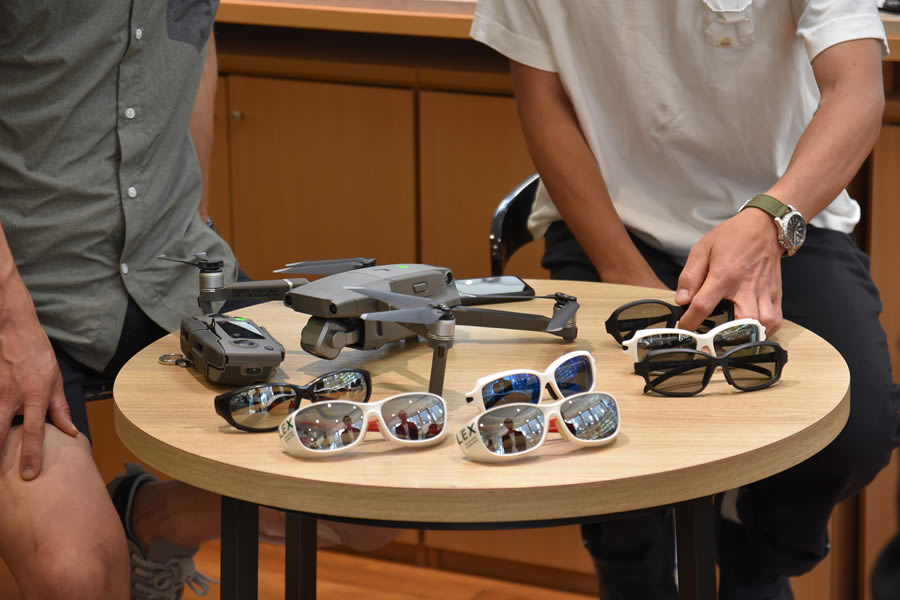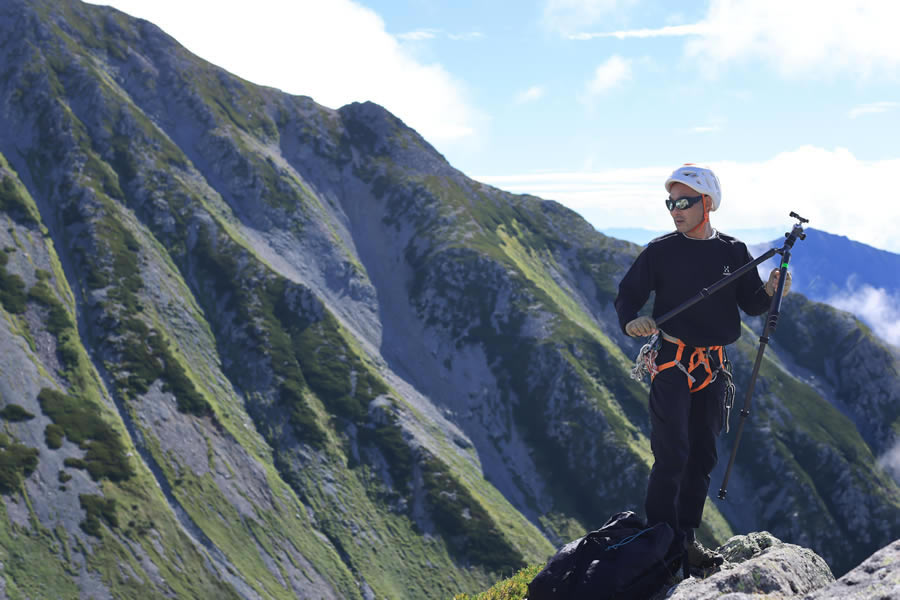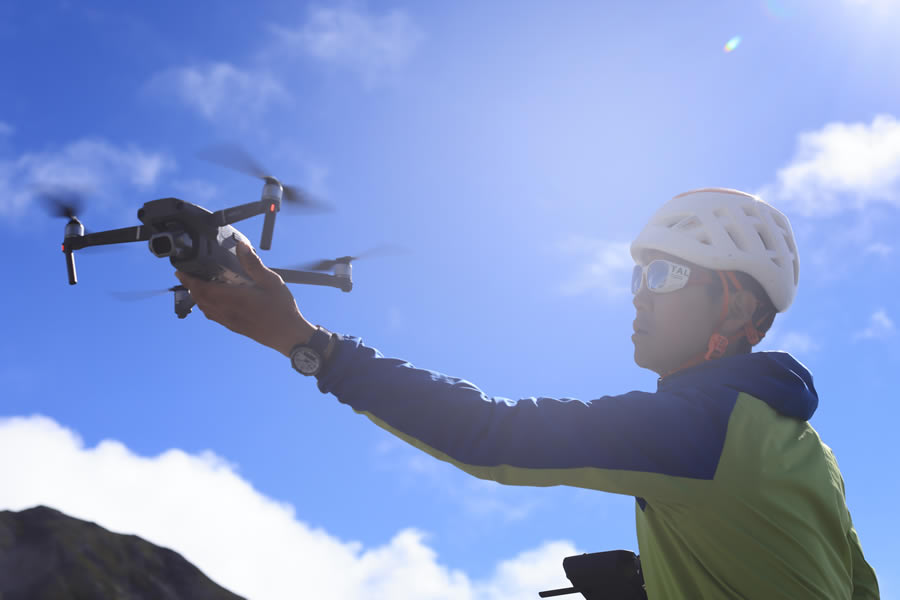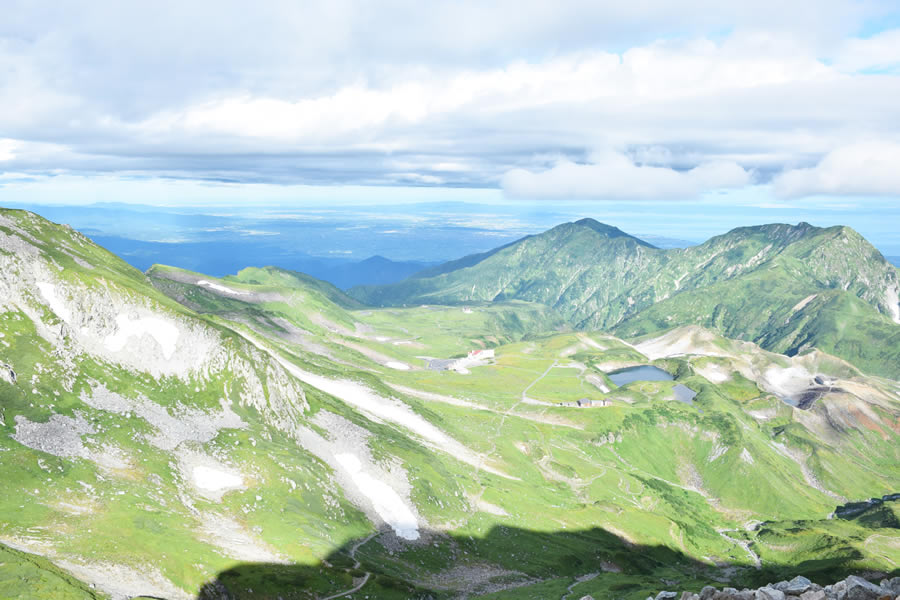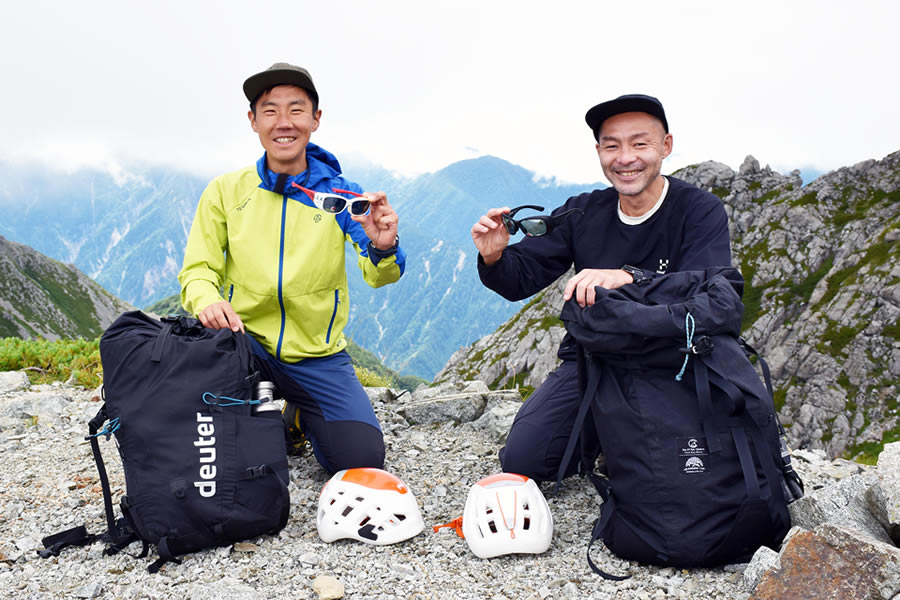 Ishii
I often pilot the drone outside of the mountains, such as in the city. So artificial obstacles will increase, and if it is too dark you cannot get a sense of distance, so you may hit something or put people in a dangerous situation. Looking at the drone with a TALEX lens, the depth is clearer without darkness, and it looks more three-dimensional, such that the risk will definitely decrease.
So the risk is not just a crash.
Nakajima / Ishii
With safe maneuvering, do not hit people or things.
Nakajima
Also, if I drop the drone, I can't get the footage. I have a rough image at hand, but since the recording media is included in the aircraft, it must come back. The footage is more important than the aircraft (laughs).
Ishii
I used to crash my drone a lot. If the footage does not come back, I don't get more the work (bitter smile).
Are there any other merits unique to TALEX lenses?
Nakajima
There are many opportunities to fly at sunrise, when various things are reflected in the morning sun. The wet ground, the surface of the river, and the leaves of the trees are shining with the morning dew. It's beautiful, so I want to keep it in the video. However, there are many obstacles in such places, and it is difficult to see because it shines, but with this lens you can clearly distinguish what you are seeing.
Please tell me the lens color you use when shooting drones.
Ishii
In the low mountains and towns of Japan, I want to see the colors closer to the naked eye, so most of my lenses are Granite. In the Himalayas and snowy mountains, I mainly use a Dark Slate Silver Mirror.
Nakajima
Recently, Granite and Slate have come into play more often. I have used Copper in the past, but now it's the same as Mr. Ishii, usually Granite, and when the light is strong on the snow Slate.
Ishii
I used to choose lens colors that specialize in contrast performance, such as Copper and Agate, but recently I've become more eager to see the colors as they are.
Nakajima
There are also times when you want to enjoy the scenery (laughs)
Ishii
It is easy to see even when the brightness changes frequently and the sun enters and exits the clouds in the mountains. It doesn't change whether it's cloudy or sunny, and it's easy to see without impact. I can't work without them.
Nakajima
Once you use it, you can't go back to normal sunglasses.
Can you tell us your favorite frame in combination with Granite?
Ishii
I really like this OZNIS 9B02. This frame is very durable. When I'm in the mountains, I tend to use it more than usual. Also, the light blocking effect is just right. Also, unless it is a fierce mountain, I often use this OZNIS FLAT 08. The reason is that it is better to have as few corners as possible because the face is often brought close to the camera. This frame is very thin, so it's hard to come in contact with the camera, so it's convenient for shooting.
Nakajima
I use Overglass a lot lately. Since it is difficult for light from the side to enter, you can concentrate on the field of view of the lens and it is easy to see. It is resistant to storms and has a goggle-like feel.
What if you notice that you forgot your TALEX sunglasses at the shooting location?
Nakajima
That's a problem.
Ishii
It's a shock (laughs). You cannot climb if you are climbing a high place.
Nakajima
You can buy something locally, but it's the one you use the most, so you have to be familiar with it. Well, I'm climbing I'm relying on the information I see with my eyes. It is a very essential item.
---
Contributors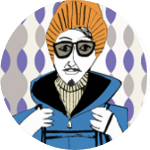 Kunihiko Ishii
Born in Hokkaido in 1979.
A cameraman who shoots various genres such as nature, animals, documentaries, variety shows, etc. Since 2019, he has appeared on NHK's "Earth Traveler" and participated in shooting, and has continued to shoot the Great Himalayan Trail in Nepal and mountains in Japan.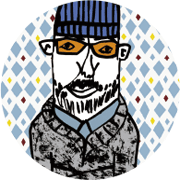 Kenro Nakajima
Born 1984 in Takatori Town, Nara Prefecture. He has supported the historic challenges of Japanese climbers, such as Mr. Hirotaka Takeuchi, and has also worked on video and still photography mainly for mountain climbing in high places and summits. He won the Piolet d'Or Award twice for the excellent mountaineers of the year at the summit of Sisparle (2017) and Rakaposhi (2019) where he partnered with Kazuya Hiraide on an unexplored route.